---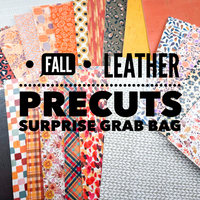 If you know me, you know I have hundreds of leather prints in stock! This photo is only a handful or Cork on Leather and does not include my printed leather, or many many other corks! 
These grab bags will be all sorts of fall appropriate shapes but no holiday specific shapes! Think fall fillers! These are a great value, put a hook on them and they are ready to sell! 


Each set comes with AT LEAST 10 pairs!