---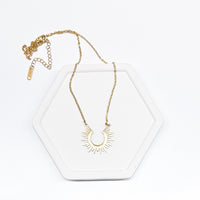 ::::::Please Read:::::::
If you upgraded shipping because you need your order quickly or have multiple orders to be combines please email right after purchase to notify me Campbellsandchaos@gmail.com
Product Details: 

These are some of  the first items in our line of premium higher end 18k gold plated stainless steel items meant for you to resell without the high cost of buying large amounts at wholesale from manufacturers. Keep on the look out for more coming soon!
Quantity: 1
Color: Gold
Material: Stainless Steel 18k Gold plating  
Size: 17 inches
Shop Notes:
We have done our best to show the most accurate colors, but as with all things bought online, please be aware that monitor displays can cause colors to be displayed inaccurately. If you the color does not work for you, we do accept returns. 
Please be sure you join our mailing list at www.campbellsandchaos.com. When you join the mailing list, you receive a discount code for your next order! 
As always, if you have any questions, concerns, or issues with your order, please email us at campbellsandchaos@gmail.com and we will assist you right away. Your satisfaction is our top priority, we know you have a lot of choices on where to spend your money and get your supplies, and we can not thank you enough for shopping with us!